---
This new feature of the AVA Web site is presented as a service to members in response to the many requests we have received for help in finding a Vega to purchase or in selling one. Listings are free to AVA Members but there will be a small fee for non-members wishing to list boats for sale. There will be no commissions. The American Vega Association assumes NO RESPOSIBILITY WHATSOEVER for any transactions or other events resulting from listings on this site.


---
Located in Bellingham, WA,
Katia Sophia is a fine example of the Albin Vega, featuring:
LoFrans windlass, Bruce anchor. Radar and Wind vane. Force 10 heat. Brass bulkhead lamp. Force 10 cooktop. Split galley. Updated breaker panel. Just 450 hours on new Beta engine. New transmission, exhaust, prop, shaft, etc. Tiller steering, dry cockpit.


1975 Vega in Milwaukee, WI
| | |
| --- | --- |
| Original Engine | Double anchor roller |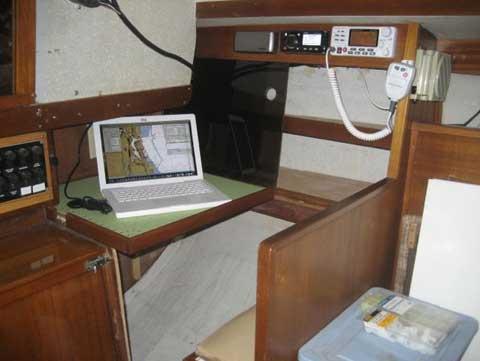 Custom Navigator's Station
1975 Albin Vega


The Albin Vega is a robust and solidly built 27 ft cruiser with an excellent reputation for sailing performance and seaworthiness. This particular Albin Vega is in good condition with upgrades designed for the single-handed, blue water sailor, including: lines run aft, slab reefing, stow-able lazy jacks, self-tailing winches, solar panel, furling headsail, Standard Horizon VHF with AIS/GPS output to laptop, new double lifelines, new head/stainless steel tank, LEDs inside and out, propane grill, new fuse panel, running rigging new in 2009, stereo with iPod dock, Xantrex 2000W inverter/charger, Nav Station and custom cradle . It has been fresh water sailed for at least the last 20 years, was in storage for 13 years prior to our purchase and undergoes maintenance and upgrades in a covered shed in the winter. She comes with a variety of sails for furler or hanks, both of which are included in the sale. (Pictures available upon request.)


The 27 foot Albin Vega is ranked 5th out of 20 boats for seaworthiness and was included in John Vigors book,"Twenty Small Sailboats To Take You Anywhere".


Additional Specs, Equipment and Information:


Engines
Engine 1:
Engine Brand: Volvo
Engine Model: MD6A
Engine Type: Inboard
Engine/Fuel Type: Diesel
Engine Hours: unknown
Propeller: 2 blade propeller
Drive Type: Direct Drive
Engine(s) Total Power: 9 HP


Accommodations
An easy working interior for passage making or inland water cruising. Sink and ice box to starboard, followed by a 6 foot 2 inch berth going forward. A new (2011) Jabsco head and stainless steel tank forward of the berth. Wet locker is across from the berth to port, with a smaller berth aft and a Nav station aft of the berth. Ample V-berth configuration sleeps two adults easily. Original cabin table is also usable in the cockpit.




Galley
• Sink w/manual water pump
• Ice box


Electronics
• Standard Horizon VHF with AIS/GPS output via USB
• Standard speed and depth instruments
• Fusion Stereo with iPod dock and satellite radio capable


Electrical
• 12V electrical panel with 120V switch
• 120V shore power inlet and 35 foot cord
• 2000W Prosine Inverter/charger
• 2 house (starboard locker) / 1 starting (under tiller) bank
• Newer (2009) fuse panel, 3-way and shore power switches
• LED lights inside and out
• Solar panel


Sails & Rigging
• Full batten main w/2 reef points (excellent condition)
• Partial batten main w/2 reef points (refurbished in 2011)
• Roller furler
• 155 and 135 for furler
• 155, 135, 100, 60 and storm jib with hanks (forestay included)
• Cruising Spinnaker
• 1 x 19 wire standing rigging
• Running rigging (2010)
• Slab reefing
• In-mast halyards
• Stow-able lazy jacks


Engine
• MD-6A 9 hp Volvo diesel
• Fuel tank in port locker


Ground tackle
• 22 lb. Delta w/ 100 feet 1/4 hi-test chain and 200 feet nylon rode
• 14 lb. Danforth style anchor w/ 16 feet chain and 150 feet nylon rode
• FX-16 Fortress
• Dinghy mushroom anchor


Safety
• Bow rollers
• Lifesling
• Life preservers (4)
• Man Overboard pole
• (1) safey harness
• Distress flares
• Air horn
• Fire extinguisher
• Double lifelines - uncoated (2012)


Extras
• New Jabsco head and 14 gal stainless steel tank (2010)
• Lewmar 8 Winches on cabin top
• Lewmar 16 self-tailing sheet winches
• 4 docklines
• Propane Grill
• Nav station
• Jib Bag
• Avon Redcrest 8' inflatable dinghy - WHAT DO WE HAVE?
• Boat hook
• Spinaker pole
• Brass clock and barometer
• Some cockpit cushions
• Bell
• Kerosene lantern
• Custom cradle




Editor's note: St Brendan, Albin Vega # 1147, sailed by Matt Rutherford, is the first vessel to complete a non-stop solo circumnavigation of the Americas under sail. The route took Matt from the Chesapeake, through the Northwest Passage and South, West to East, around Cape Horn. CLICK for more information about this historic voyage

Historic Moment: St Brendan arriving at Annapolis
Matt Rutherford writes:
It breaks my heart to put this boat up for sale. We have been through so many hard times together and also so many good times. St Brendan always kept sailing regardless of the giant waves of the Bering Sea and Cape Horn, the fog and ice of the Northwest Passage, the freighters that nearly ran us down at night. St Brendan sailed for 309 days straight and covered 27,077 miles yet still has a lot of life left in her. I don't want to sell the boat but since my return I have started a non-profit called Ocean Research Project and have just completed an 80 day 6,800 miles survey of the North Atlantic. We were dragging special nets that can determine the amount of micro plastic in the water (http://www.capitalgazette.com/news/annapolis/successful-science-too-much-adventure-mark-maiden-research-voyage/article_5da26a84-0dcc-5cc4-b8b9-8b8bca28e15f.html)
I've put every dollar I have into the non-profit and no longer can afford to keep St Brendan.
On one hand St Brendan has been through hell and back and needs some TLC on the other hand St Brendan is a piece of history. She is the first boat ever to have sailed around North and South America non-stop singlehanded. The documentary about this trip will be out in a few months and the book will follow few months after. (Trailer for documentary http://vimeo.com/47936167) St Brendan's value will only increase over time. The sails and rigging are in surprising good shape. She was repowered with a Volvo Penta 2002 that runs fine (I fixed the starter when I got back). Her hull number is 1147 She is located in Annapolis MD
If I could I would keep this boat forever but I am flat broke. St Brendan deserves a good home and she deserves to keep sailing.
Matt Rutherford
410-999-7638
Matt.rutherford31@gmail.com
St Brendan Offered at $12,000
Condition:

Used:

Year:
1971
Rigging:
ss
Make:
Albin
Keel:
full
Model:
Vega
Trailer:
Not Included
Type:
sloop
Use:
Salt Water
Length (feet):
27
Engine Type:
None
Beam (feet):
8
For Sale By:
Myles Manns
Hull Material:
frp
Hull ID Number:
275
Boat is pretty stock. head and inboard have been removed. Outboard bracket on transom. Rig and sails look good. Deck has crazing in gelcoat. Window rubber has shrunk from age and inner fabric liner has been removed. Interior has been left stock has table, one modification was the addition of a fold up berth on portside settee. Please contact me with any questions. Selling local and reserve the right to pull listing if it sells. Boat is located in Bristol Maine 04564.
"Rain Dog" V2417 - Juneau, Alaska
1974 Albin Vega 27. Hull 24170774. Basic original condition. No damage history or indication. Moving, must sell. Very good condition. New bottom paint, deck paint, battery, complete electrical system, main sail, lines, deck and bottom paint last year. Depth finder, autopilot, stove, sink, head. Outfitted as offshore cruiser. Genoa, jib, and storm sail. Extra anchor. Original Volvo Penta engine and drive train. Oil analysis indicates high wear, however, engine runs good and does not smoke or use oil. Very solid. $10,000 or best offer by 6/12/10. Contact Brock Weidner at 907-321-3855 or
LawNorth2000@yahoo.com
.
"Julie" V2537 - Channel Islands Harbor, CA
Member Paul Hermanson writes:

I have owned the boat for ten years. A previous owner had outfitted the boat for cruising. A standard joke when I take friends sailing is that something will need repair and I will rummage around in a lazarette or a locker below and appear with a replacement part. When asked where I got it the answer is invariably "It came with the boat!"

Sale of the boat will include everything that comes on the boat. It is a garage full of equipment. In fact my advice is to do what I did. Empty the boat and then re-stow and label the location of every imaginable piece of equipment or replacement part. I truly believe you could literally provision with food and water and embark on a cruise!

I'm mellowing with age and like time share vacations! I can get my sailing fix by chartering anywhere in the world!


Specs and Equipment:

Hull: #2537
Name: Julie
Location: Channel Islands Harbor, Mandalay Bay, Oxnard, CA
Thru-hulls: 5 Marine grade bronze w/seacocks
Engine: Yanmar2GM20 dsl rebuilt w/80hrs showing
2 years ago I was out solo in weather between Anacapa and Santa Cruz. My mainsail blew out and a following sea backed up the engine exhaust. Caught with only a headsail and being blown down the coast I maydayed and the Coast Guard towed me in.
(Rather nice to find that after the automatic inspection by the Coast Guard my only violation was outdated fire extinguishers and
and emergency flares). Additional addendum: despite my foolishness "Julie" to care of me. She never felt unseaworthy. I called mayday as I didn't relish being blown down the coast all night with only my headsail.

Electrical: 12V DC
Heart 21-120 inverter
Spars and Rigging: Aluminum deck stepped w/tabernacle system
Standing rigging: 1x19 SS wire, stainless turnbuckles, pelican hook tabernacle releases. (This is one solid reliable tabernacle system.)
Running rigging: Main is all rope. Headsail and boom lift are original rope and wire.
Headsail: Harkin furling system (1992)
Sails: Brand new triple jiffy reefed main
Genoa on furler with new UV protective cover
Genoa (hank on)
Storm jib (hank on)
Steadying sail
Deck Equipment: Winches: Lewmar 2 #16 2 speed aft (I reconditioned)
2 lever action halyard winches at mast
Anchors: Bow, 25# CQR, 140' 1/4"chain, 200' 1/2" rope
Stern, Brand new fortress 40' 1/4" chain, 200' rope
Tender: West Marine 200? Inflatable (Really a one man dinghy, but easily inflated with in the cockpit.)
Honda BF2D outboard motor. (Sweet, gasoline, aircooled)
2 man inflatable kayak

Navigation Equipment: Compasses: 1 in cockpit, 2 mounted below
GPS: Garmin handheld
Fathometer: Seafarer flasher (This is on its last legs, needs replacing)
Auto pilot: Autohelm 800
Local charts and guides
Head: Groco manual (No holding tank)
Miscellanous: Brand new dodger
Brand new mainsail cover
Gimballed one burner propane hanging cooking unit (Use Coleman bottles)
Original Kenyon stove needs refurbishing (I don't use)
Propane barbeque grill
V berth has memory foam attached to original foam cushions for a very comfy bed.
Stern hawse pipe with chain and rope fed into mesh anchor bag hanging in stern lazarette (My own piece of handywork!)
Stern anchor roller
$$$$$$: $15000 firm. I stole the boat for $14000 ten years ago. There is easily $10000 of beyond basic Vega upgrades on this vessel. Come out with me for an overnight to the Channel Islands and I am convinced that "Julie" will win your heart.

CONTACT:


Paul Hermanson




"Wind Rose" Vega #2216 - Oak Harbor, WA
"Wind Rose" Vega#2216

1974 Albin Vega 27' . Asking $8,000

This boat is in good condition and ready to sail away. Many sails- 2 mains, working jib, genoa, storm jib, and crusing spinniker.

Original volvo-penta MD6A 10 hp diesel - 1176 hours on the clock- runs fine.

New 2008 additions include: shore power, dual battery charger, electric bilge pump and depth sounder/chart plotter.

Out of water survey done Aug 2, 2008.

Call 360-675-4909 Ray Keller or email

srkeller2@comcast.net



Vega #1590, City Zoo - Friday Harbor, WA






We have loved this cozy, classic Swedish sailboat for 24 years, but health issues have made this decision for us.

Proven offshore and coastal cruiser (previous/original owner sailed her to New Zealand, Australia, Tahiti, Hawaii and back to the Northwest. Then shipped her to Florida and sailed to Iceland. Then trucked the boat to Seattle and sailed to Aleutians and Russian border).



New 13 hp Beta Marine diesel engine (82 hours)
Fully-battened main and roller furling jib
2-Lewmar 16 and 2-Lewmar 30 two speed, self-tailing winches
Dodger with grab rails in good condition
Hydrovane self-steering vane

Port and starboard salon berths convert to king-sized bed!
Updated cabin interior, salon and forepeak cabin cushions redone
Replaced foam-backed hull insulation
Ice box & 2-burner Primus Stove
USCG Documented vessel


Beam: 8' 0"
Draft: 3' 10"
Tonnage: Gross 6/Net 5
Designer: Per Brohal
Where built: Kristinehamn, Sweden
Builder: Albin Marine
Hull: Fiberglass, #1590
Prop: 3 blade, 13 x 7 RH bronze
Mast: Anodized aluminum
Gimballed brass lamps
Newport Dickinson heater and much more.

Offered at US$12,500

CALL San Juan Island Marine Center, 360-378-6202
or email, mitzi@rockisland.com

More photos







East Coast Project Vega with Trailer
Ukiyo, Vega hull #377, has been stored on her trailer for ten years. It is time someone set her right and put her back in her element with wind in her sails. David knows that that will not be him so he his offering her, complete with trailer for only $1500.
Click THIS LINK for many more photos and more details.
Ukiyo is located in Groton, MA. David can be contacted via email to arrange a showing.